Parking lots and parking meters
You've probably put a few pennies in the parking meter, thinking your shopping would only last a few minutes, then walked out of the store and found you've shopped a few minutes too long. And these few minutes are often expensive! Never mind, the Secunik application now established in downtown Val-d'Or allows you to pay your meter whenever you want, wherever you are.
We explain how below.
Know before!
The application is easy to use, certified by banking institutions and very practical! Note, however, that a fixed fee of $0.15 will be added to the total for each transaction made with Secunik. You can pay credit (visa or mastercard) or debit (with Visa debit only). It is also possible to register more than one credit card (useful if you sometimes have to pay for parking with a corporate credit card!). Also note that several cities in Quebec, Ontario and the rest of Canada use the Secunik application. By familiarizing yourself with the application, you can also use it during your vacation or at relatives in St-Jean-sur-Richelieu or Drummondville, for example.
Paying the parking meter, step by step


1. Download the app
First step: you need to download the application. Secunik is available for free and is easy to install on any smart phone. If you have an iPhone, visit the Apple Store, search for Secunik and download the application. For owners of a phone with an Android operating system, do the same from the Google Play application.

2. Sign up
This is the longest step (about 30 seconds!) and you only have to do it once!
You will first need to enter your phone number, find a username and password, then click "Continue".
3. Accept the terms and conditions
Sorry. I told you before that the longest step was to register… that's wrong if you're the type of person who takes the time to read the terms and conditions of each app you download. If you're like 99% of the population, you just have to click on "I accept". Secunik will then send you a 4-digit code by text message that you can enter on the next "Key Code" page.

4. Choose a four-digit PIN and enter it.
Don't forget it or write it down. You will need to enter this PIN when it comes time to pay for your parking.
5. Enter your banking information
Don't worry, the application is secure and certified by banking institutions. Select your card (Visa or Mastercard) and enter the requested information.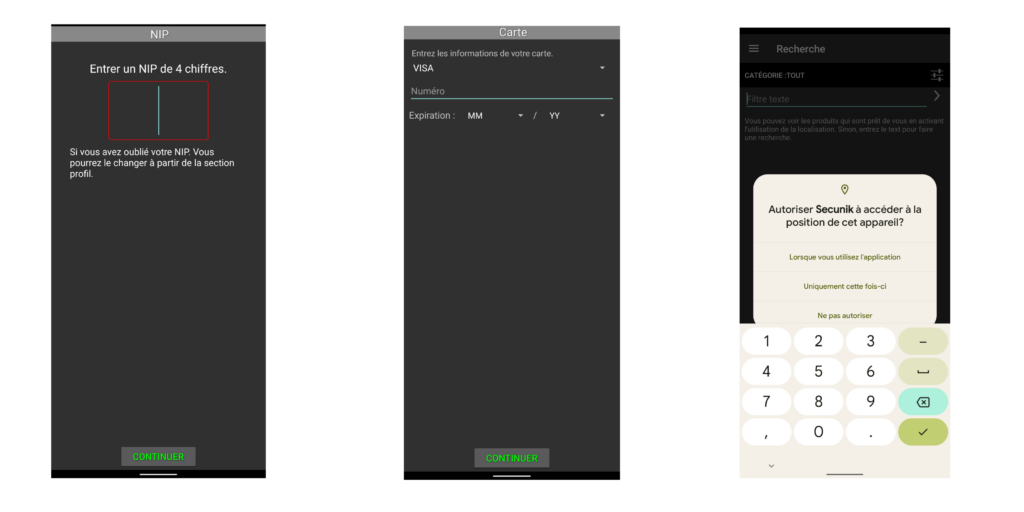 6. Pay your parking
The application will then ask you to authorize Secunik to use the location of your device. By clicking on "allow when using the app" Secunik will output the parking numbers that are closest to you. You will therefore limit your search time and can select and then pay for the parking number in which you are parked. In addition, you will be able to view the remaining time of a parking lot in progress, choose the parking time you wish to pay and add time via the application if you think you will exceed the time initially paid. Small bonus: you will receive an alert when you only have 5 minutes of parking left!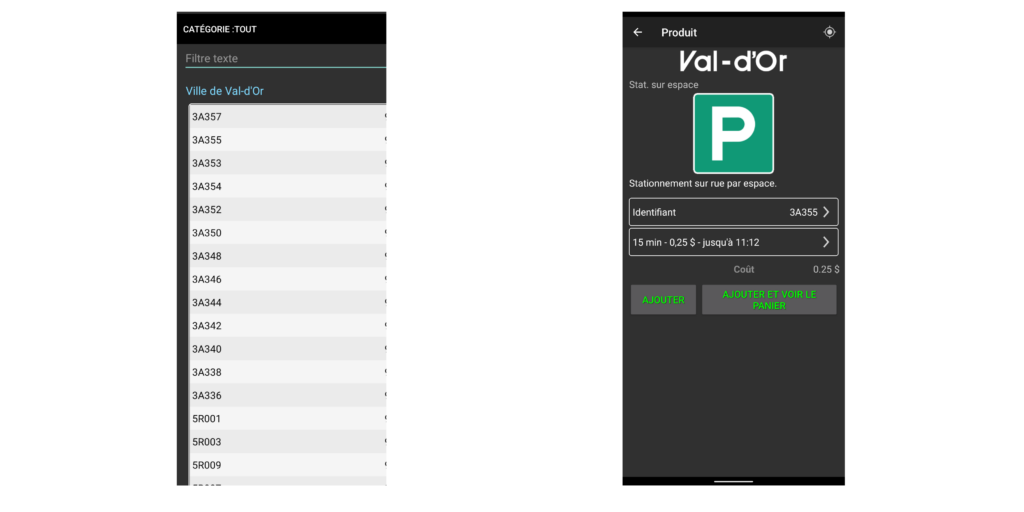 The Secunik application also sends you an electronic receipt of your transaction and allows you to view your payment history. In short, no more collecting 25 cents and nervously monitoring the parking attendants. In no time at all, it is now possible to shop with us for as long as you want!
For more information, watch this video made available on Youtube by the City of Val-d'Or.