Mission, vision and values
We are recognized in Quebec as the best company in the development and manufacture of boots and other fur articles to face extreme cold and love winter.
The principles of life that are directly linked to our actions are our heritage, buying and tailoring in Quebec, recycling and finally wildlife education.
It is greatly important for us to be actively involved in our community and strive for the well-being of our community.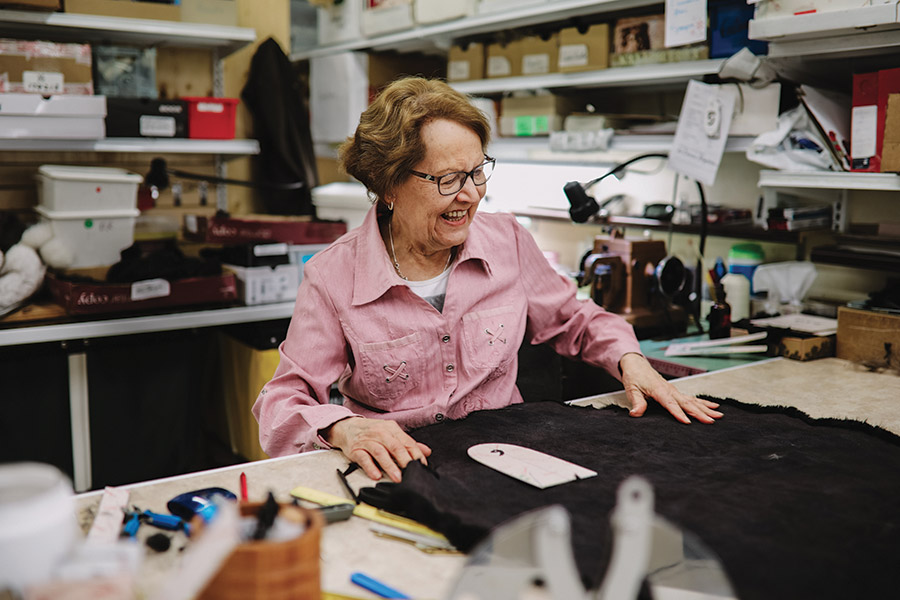 Mission
"Founded over 40 years ago in a small town in northern Quebec, Fourrures Grenier is passionate about the design and marketing of fur and leather articles and accessories. Its team of professionals uses its expertise to provide its customers and their families comfort, warmth, quality and style."
Vision
"Developing a high notoriety associated with product quality and excellence in customer service."
Values
Do better, do more

: It means being open-minded, welcoming change and striving for excellence.

Acting with respect and honesty

: It means being honest and authentic.

Listening and communicating

: It promotes positive and transparent exchanges.

Helping each other to meet the challenges

: It means supporting each other, working as a team and together going further.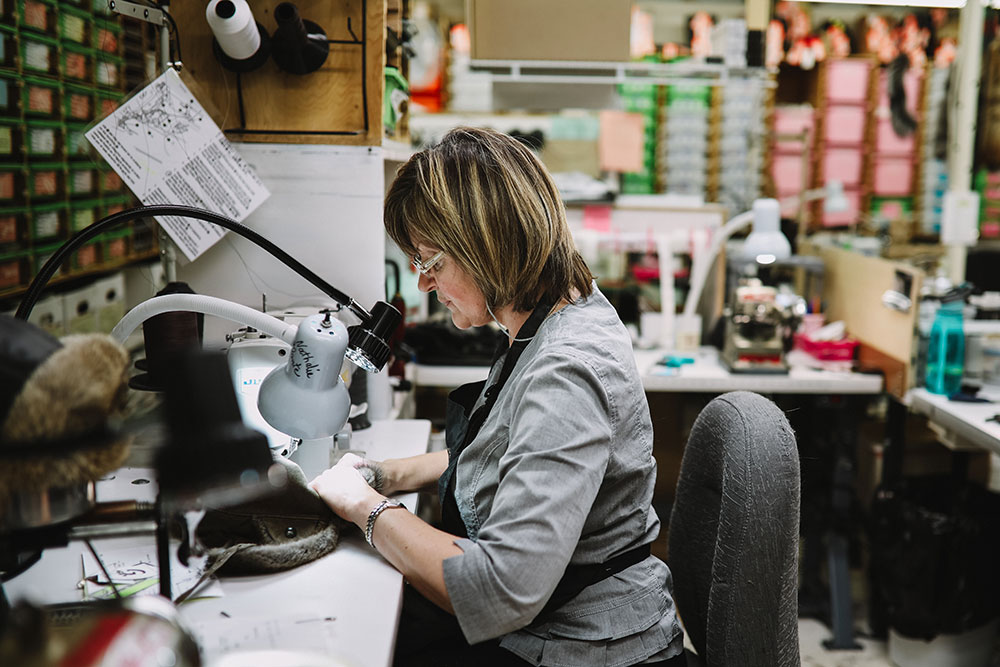 At Fourrures Grenier we know the importance of investing in human capital because our greatest strength is our team.
Trapping, a tradition in the family
Fur, hunting and trapping
Trapping
Most of the skins for our confections come from trappers. Coyote, beaver, wildcat and fox are wild animals of the Abitibi-Témiscamingue region (Quebec).
Over the past ten years or so, the profession of trapper has evolved a lot. Trapping devices are regulated to ensure rapid death of the animal.
Canada is a world leader in trap testing and research.
Trapping is also used for conservation, environmental protection and the maintenance of biodiversity.
Trapping for fur and food remains an important economic and cultural activity for Indigenous and non-Indigenous people, especially in remote communities.
In short, why trap?
to protect natural habitat, farmland, roads and other property from damage by wildlife;
for disease control (such as rabies or giardiasis [giardiasis]);
to maintain or improve the biodiversity of animals and plants;
to protect sensitive species from overabundant predators or competing species;
for public safety;
to safely remove wildlife from suburban urban areas;
to reintroduce species into their usual territory;
for conservation research;
for environmental and wildlife monitoring;
for fur and food.
The Hunt
Sustainability and balance of ecosystems
The annual seal hunt helps protect marine biodiversity by supporting the conservation of fish and other marine life.
Culture and sustenance
The seal hunt is also a vital activity for tens of thousands of Canadians living in remote areas. The seal hunt supports northern and coastal communities nutritionally, culturally and economically.
To find out more, watch the movie Angry Inuk.
Human and professional
In Canada, animal welfare standards, codes of practice, training and licensing programs ensure a human hunt and products of the highest quality.
Natural and sustainable Canadian seal products
In addition, it should be noted that the seal is used in its entirety:
Seal oil is a complete source of Omega-3 (DPA + DHA + EPA) with optimized absorption thanks to its molecular structure from a mammal.
Seal fur is a very versatile material used in multiple applications such as accessories, shoes, clothing and decoration.
Seal meat is an excellent source of protein. It is rich in iron, zinc, magnesium and vitamin B12. This wild meat from hunting contains no antibiotics or added hormones.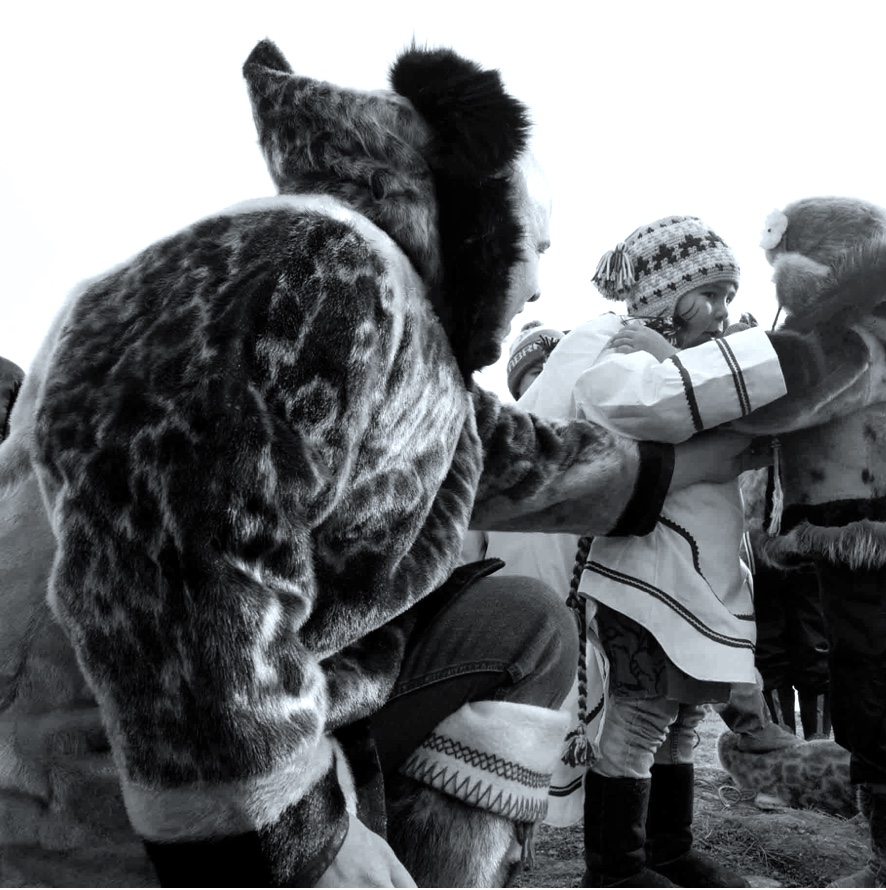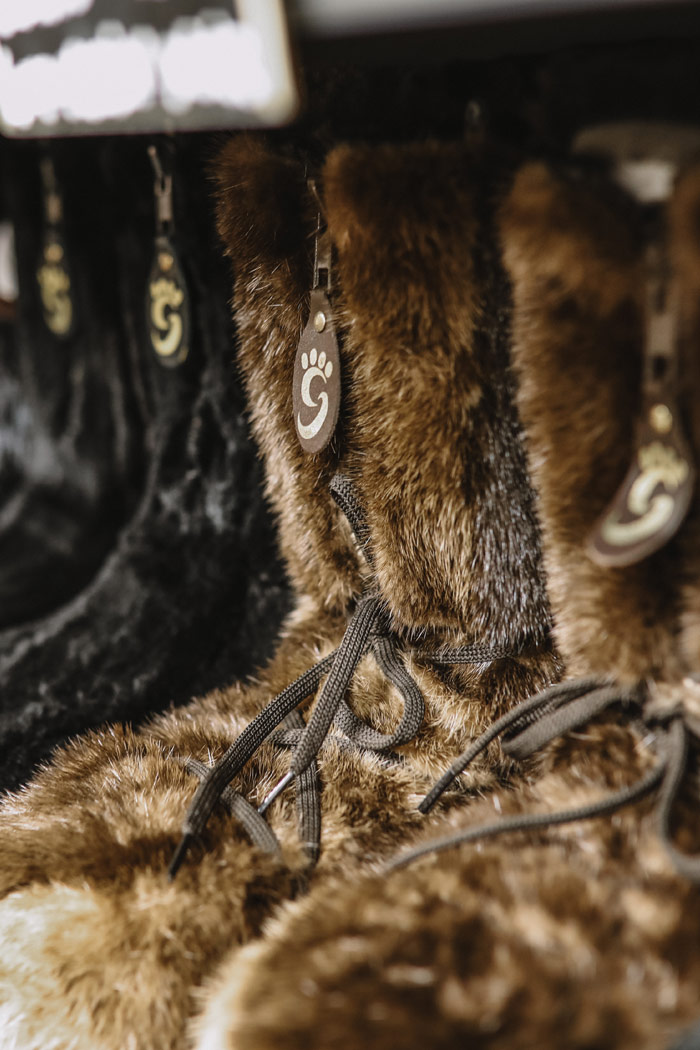 The furs that are used are abundant and the survival of wildlife is not threatened.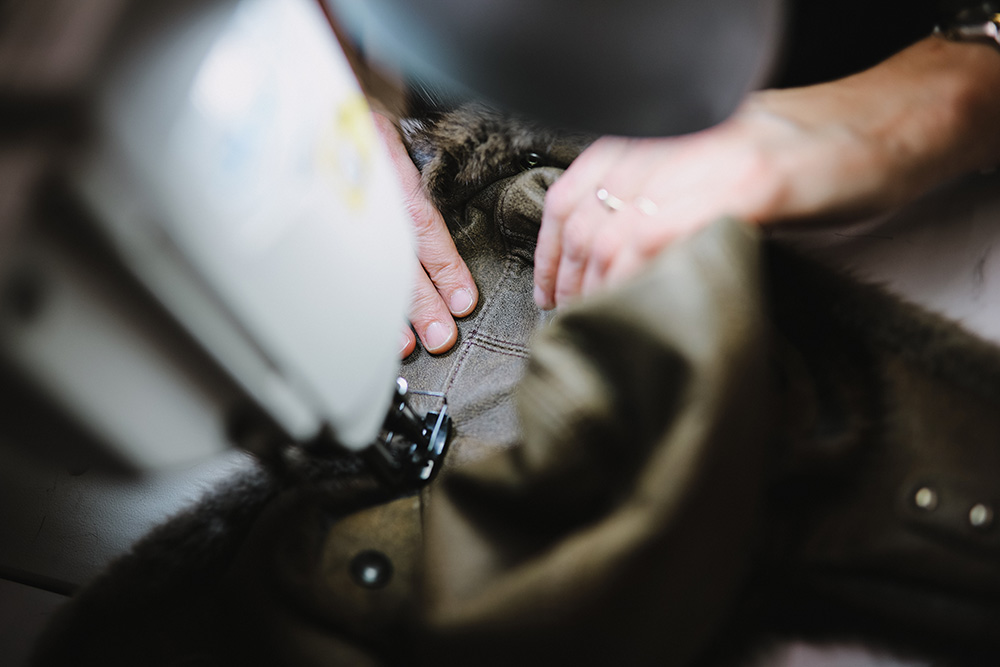 Environment
Fur is a biodegradable, renewable material that has a lifespan of up to more than 30 years. Buying a pair of fur boots is an investment!
At Fourrures Grenier, we started making boots in 1993, and many customers still tell us that they wear their boots today!
Over 20 years with the same pair of boots, it's eco-friendly! In addition, they are almost infinitely repairable.
Buying a pair of Grenier Fourrures boots also means less transport, therefore less greenhouse gases and less unnecessary packaging.
Fourrures Grenier is a company founded by local people who care about the quality and durability of their products, but above all the well-being of their employees. Providing a warm and human experience with impeccable and personalized customer service is also a core value of the company.
Let's encourage the talents from here who offer original, exclusive and exceptional quality products that last over time!
Our history
Is a beautiful love story!
It begins with the union of Robert Grenier and Rita Bergeron in Lamorandière in Abitibi.
Like many entrepreneurs, it started in the basement of the family home.
From self-employed workers to the foundation of a registered business and then up to 2nd generation.
From the 1970s to today, track the time in short texts and photos.
(Left to right navigation)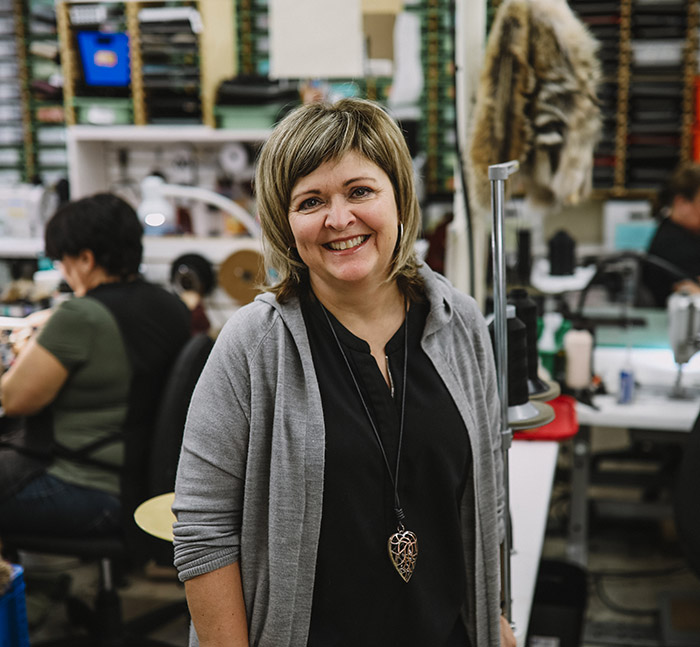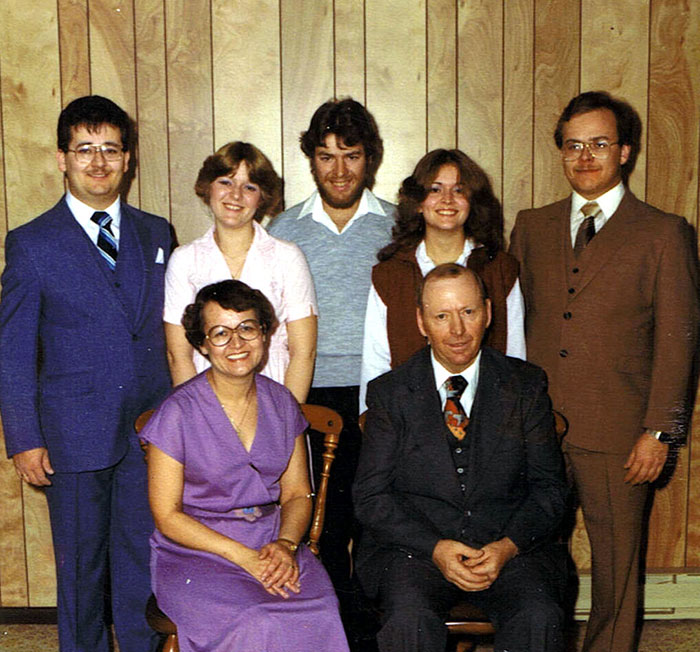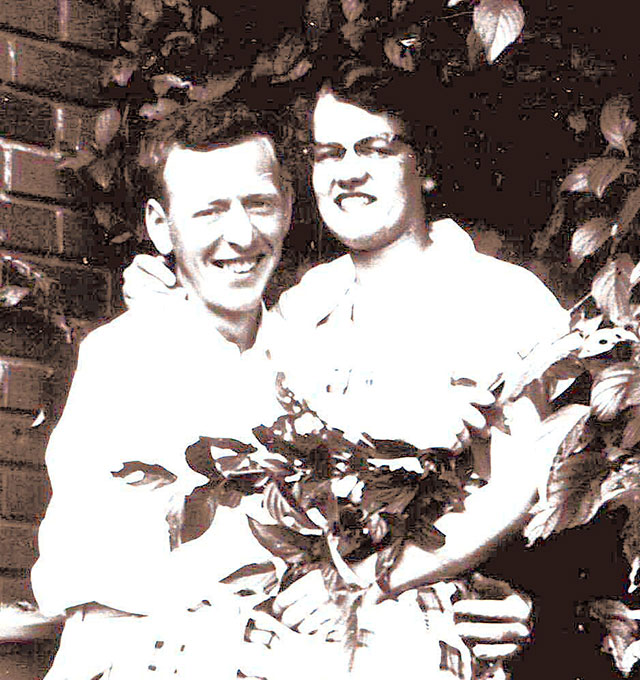 1956
26 juillet 1956 – Rita Bergeron and Robert Grenier unite their lives for better and for worse.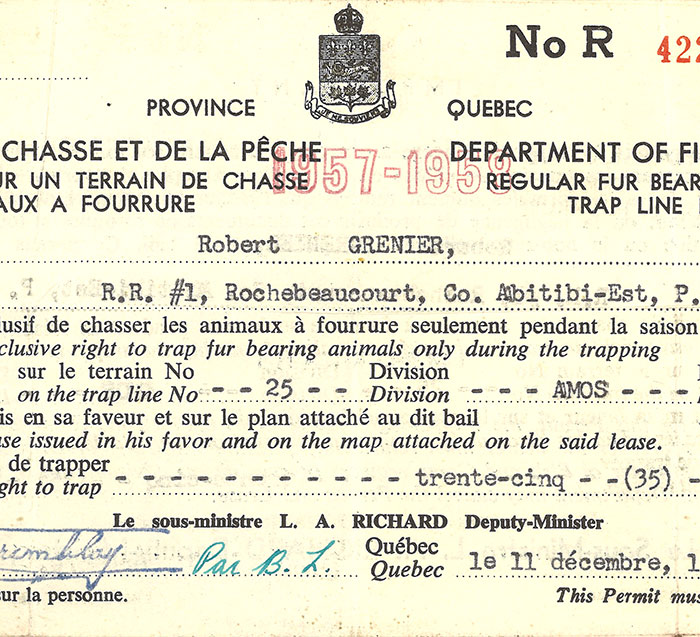 1957
December 1957 – Robert begins his career as a trapper with his stepfather Albany. They sell their fur to a buyer in Montreal.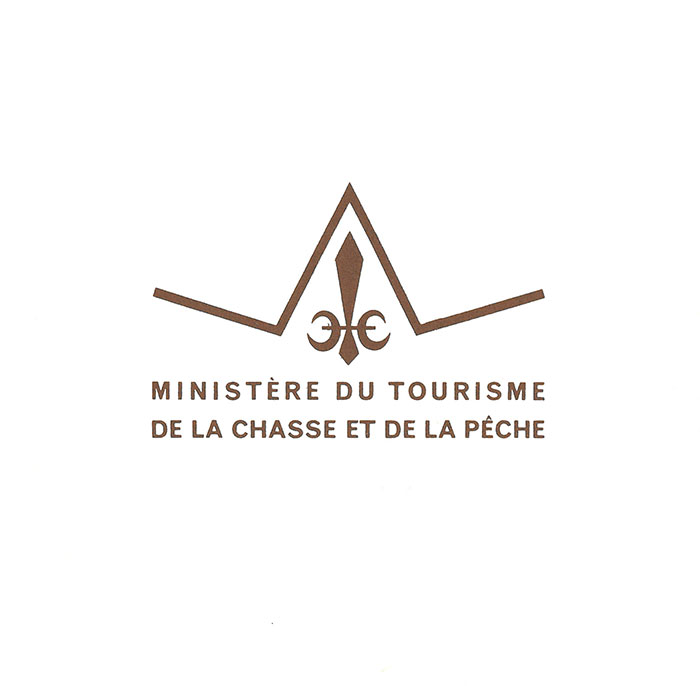 1966
December 1966 – A fur buyer leaves Robert 1000$ and offers to buy the fur from the trappers in the region. Robert therefore obtained his first fur buyer permit. This is the beginning of Fourrures Grenier, in the basement of the family home in Lamorandière.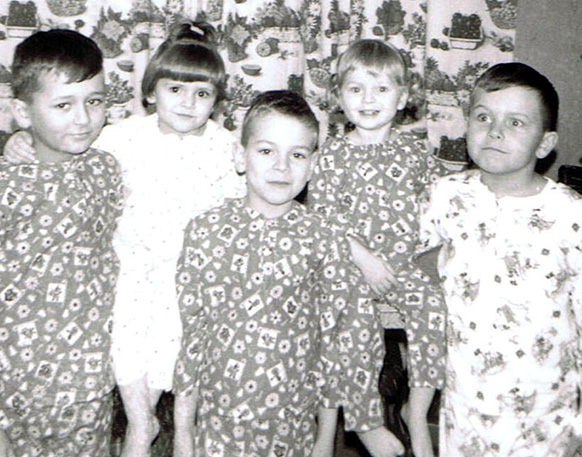 1969
The family is complete. Denis, Claude, Marcel, Jeanne and Francine.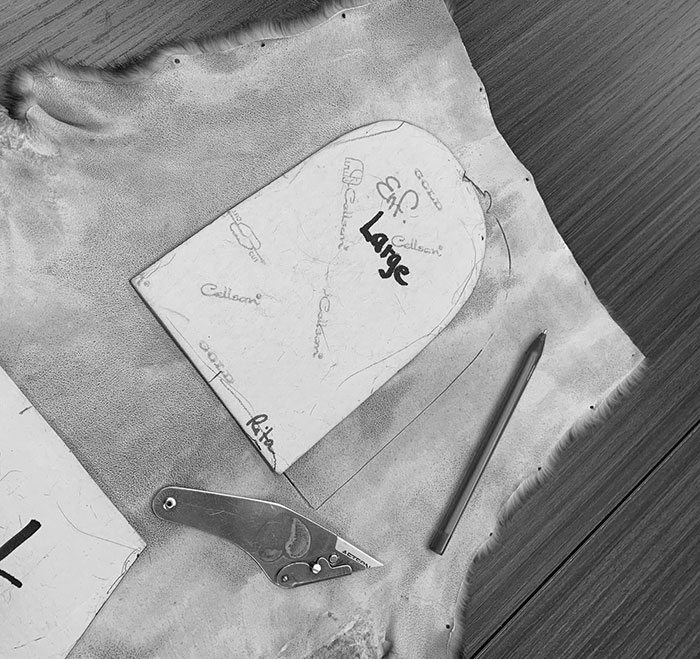 1970
Rita starts sewing fur and she works to create patterns to handcraft hats, mittens and slippers from fur.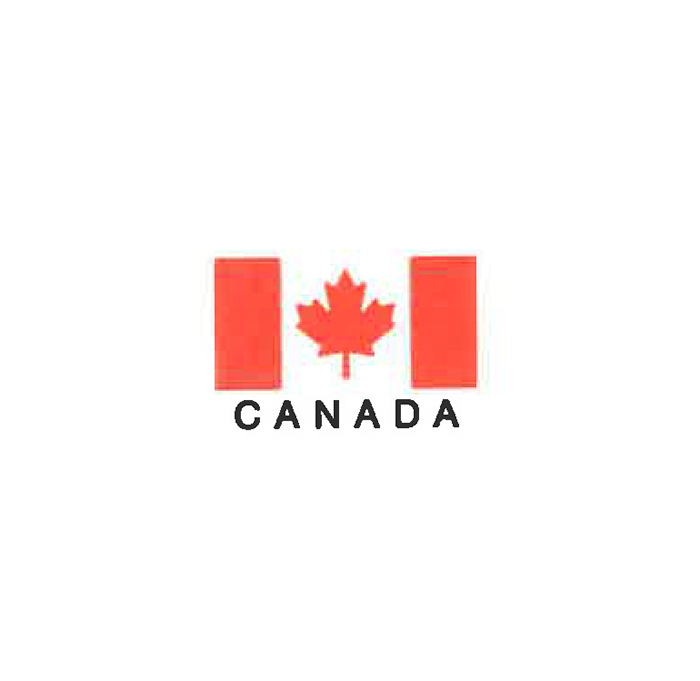 1978
Robert and Rita incorporate Fourrures Grenier.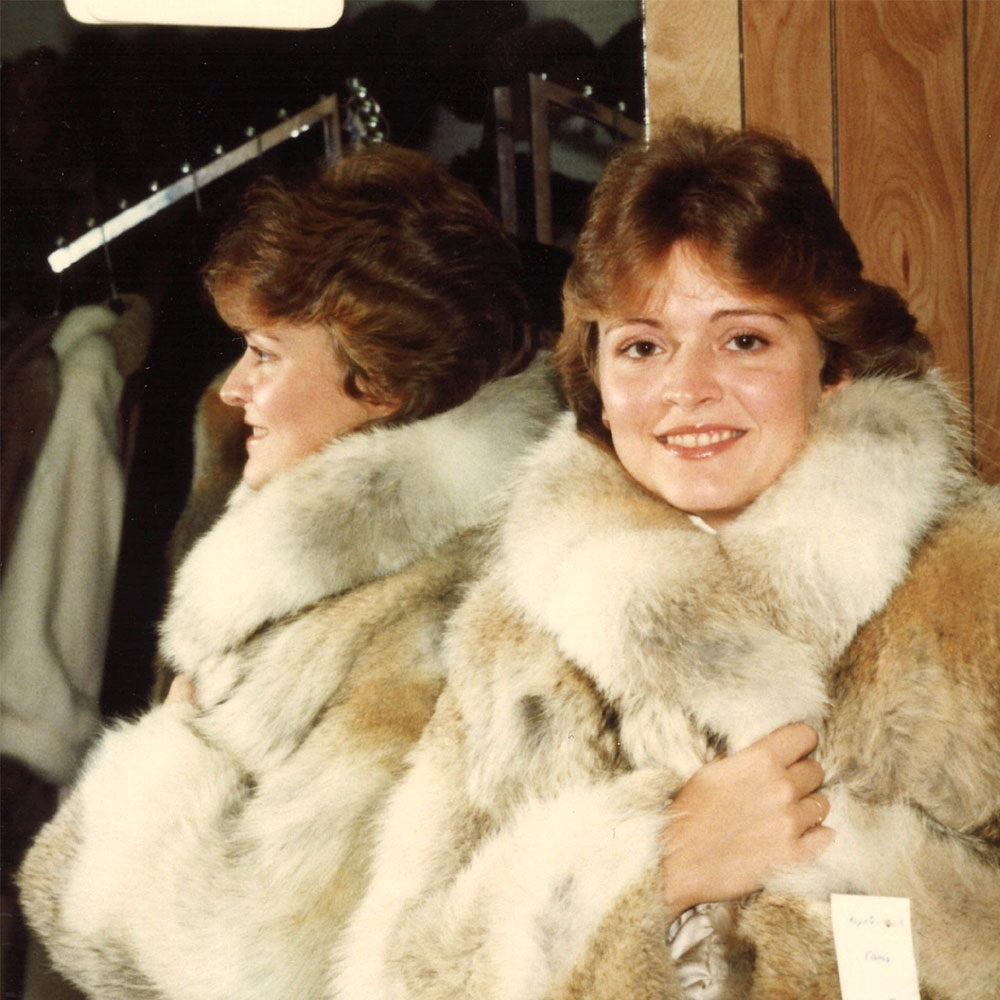 1979
Rita and Robert decide to expand the family home to make a sewing workshop in the basement and a small shop to sell Rita's creations and fur coats.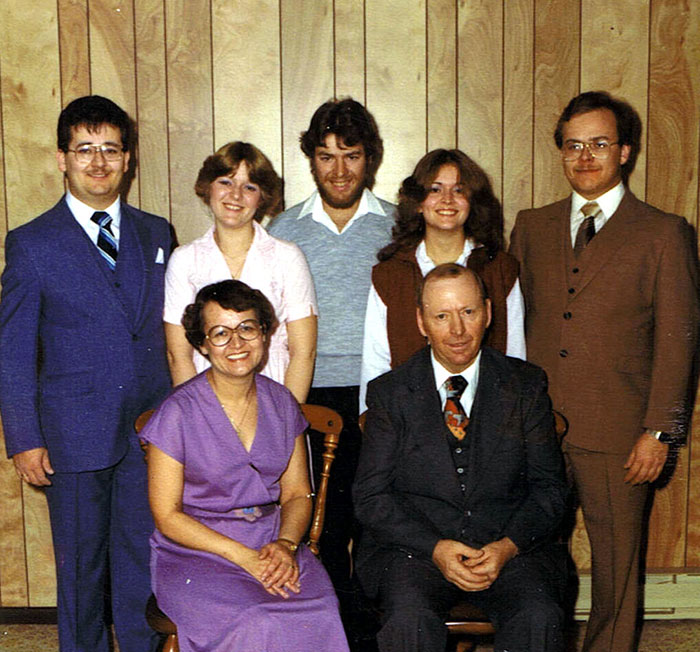 1980
The children grow up and some show interest in the business and start working with their parents.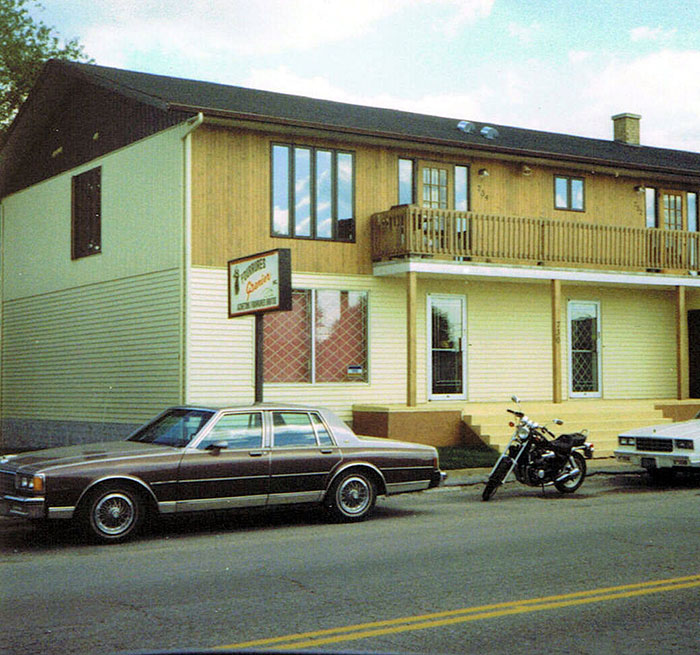 1985
Construction of a building in Barraute and relocation of the company. The trade in raw hides takes place in the basement and the ground floor is used for a clothing workshop and a shop worthy of the name.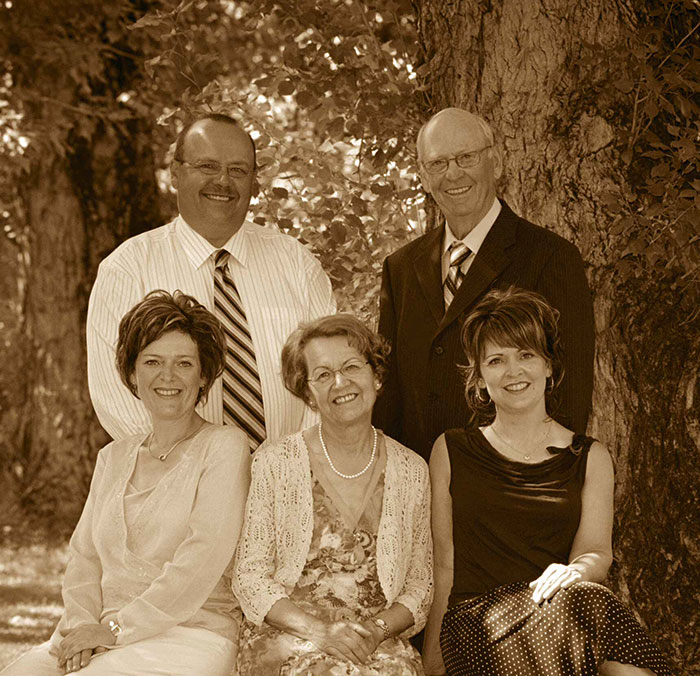 1987
Claude, Jeanne and Francine join the company and therefore become shareholders of Fourrures Grenier.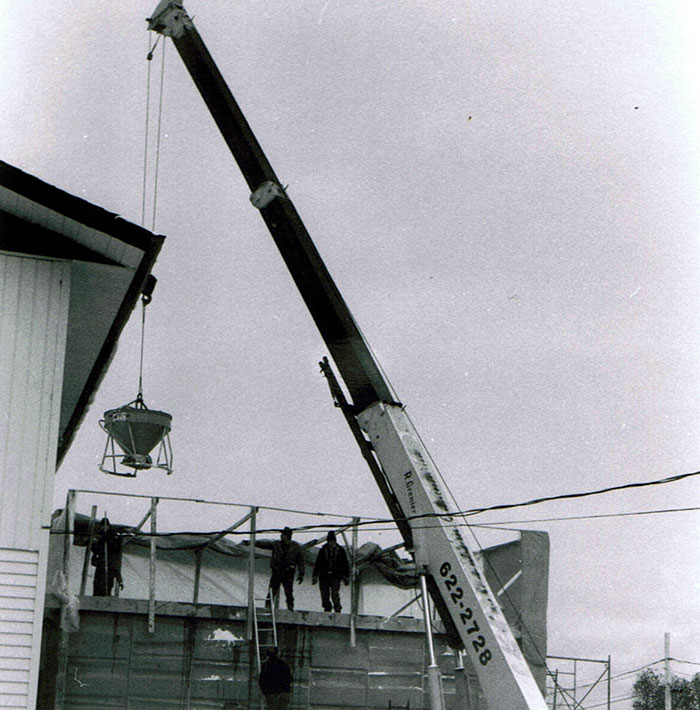 1990
Fur coats are very fashionable and there are few places to store them in the summer. For that reason, a vault was built to store 1,200 coats during the summer season.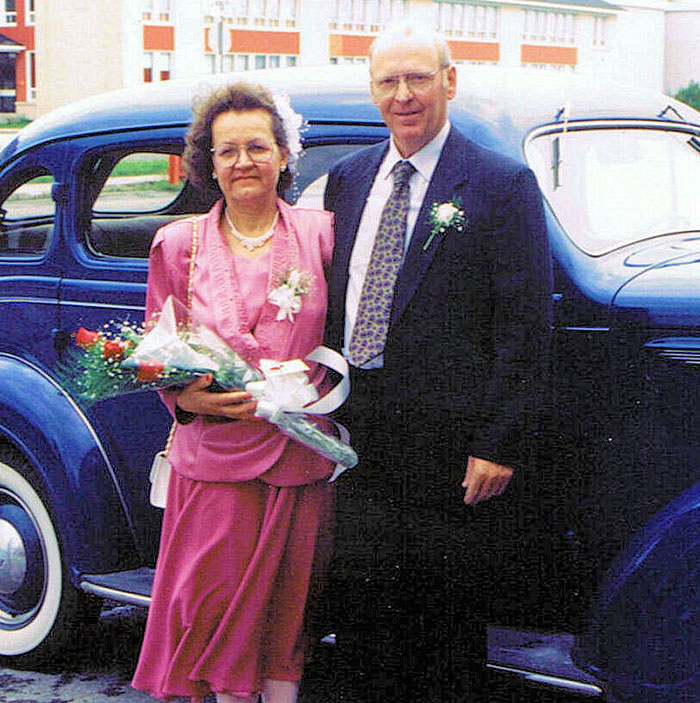 1991
Already 35 years together for Robert and Rita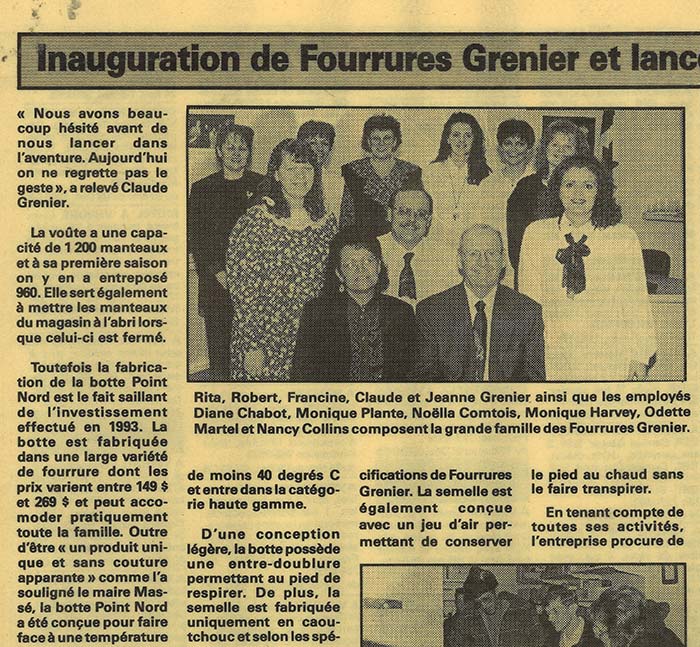 1993
Beginning of the manufacture of fur boots. Fur boots are in high demand and supply is scarce. Since the Grenier family is very familiar with fur, why not take up the challenge?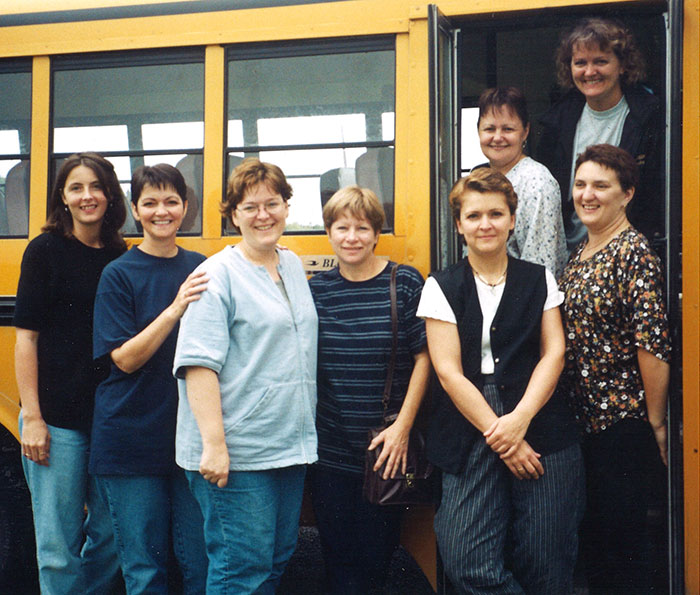 1995
Hiring of a first representative to sell Grenier products to other stores. The team has 8 seamstresses / saleswomen.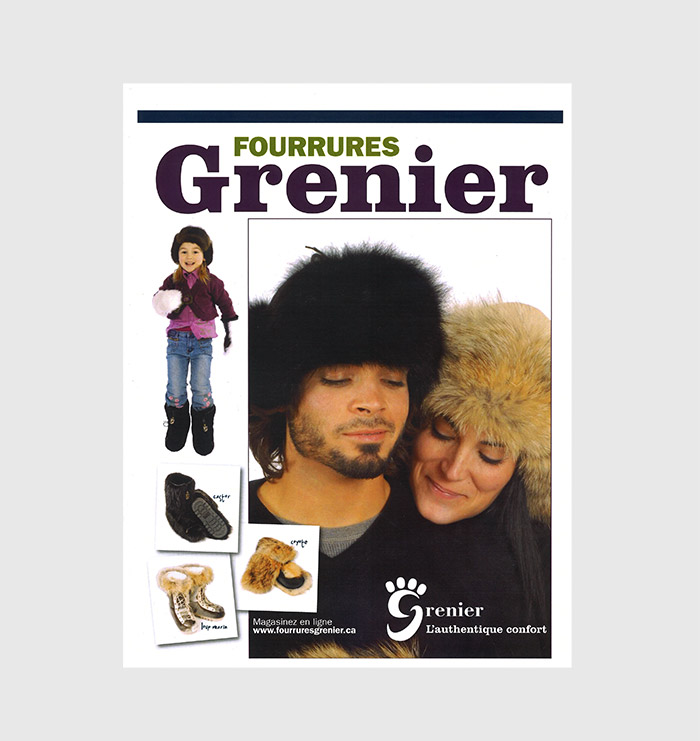 2007
Conception of the 1st transactional website.
2011
Major investment. Expansion of the shop and the factory with the old vault. Sales of Grenier products are on the rise and there is a lack of space for new workstations. A new garage is also built to house the raw hides department. The store goes from seasonal to 4 seasons with the addition of shoes to its offer.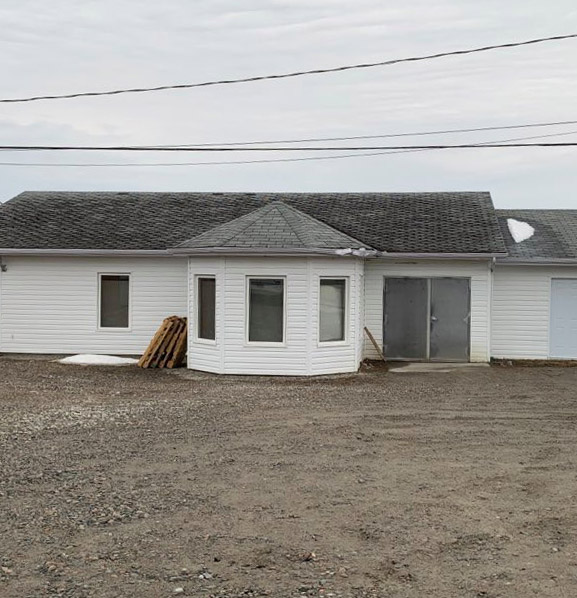 2014
Purchase of the in-ground swimming pool of the back neighbor to make it a warehouse, which makes it possible to add more workstations in the manufacturing workshop.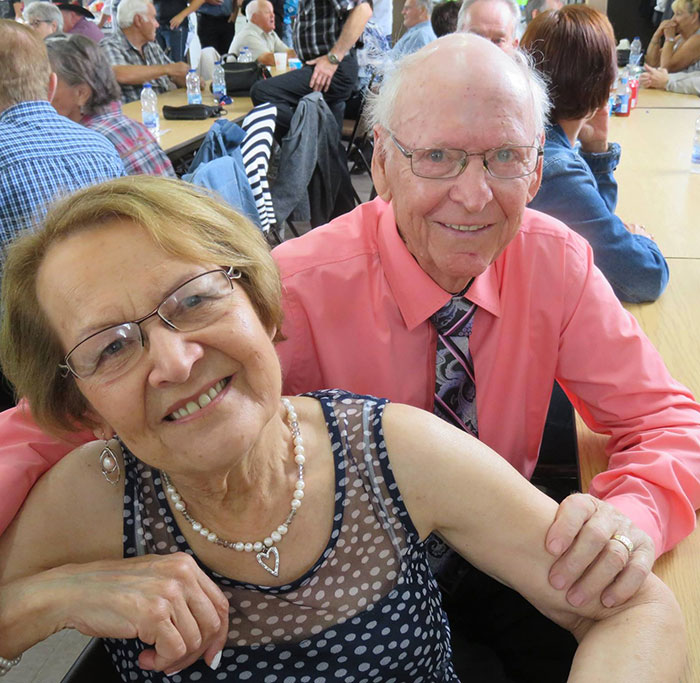 2016
This is what a couple who have loved each other for 60 years looks like! It's a short life!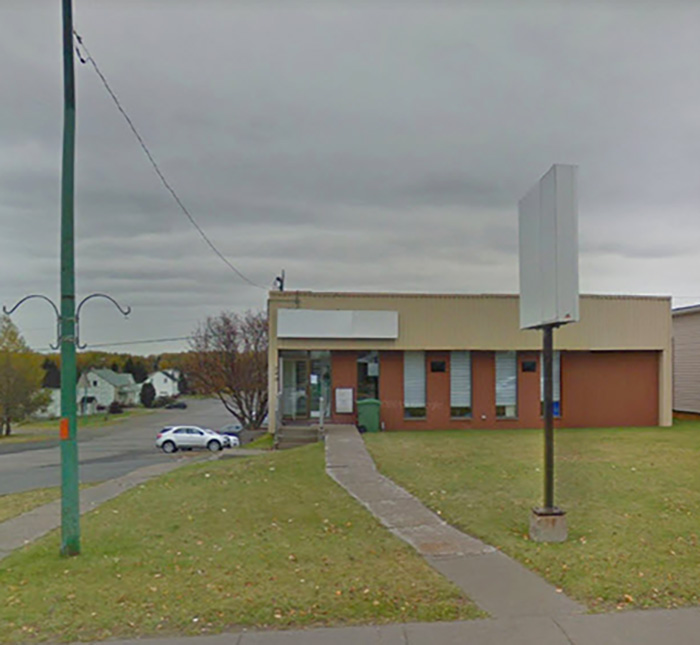 2017
Purchase of the neighboring Fourrures Grenier building to expand the business. Finally, the store will be moved to Val-d'Or but the proximity of the 2 buildings remains interesting.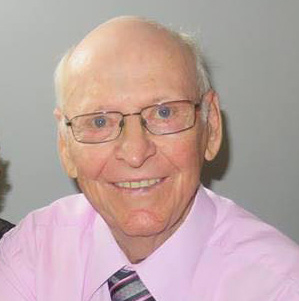 2019
June 2019 – Death of Robert Grenier, Founder of the company. Robert leaves as a legacy his beautiful values of mutual aid, generosity, hard work, determination, daring and perseverance, which continue to support and influence a whole team, a family.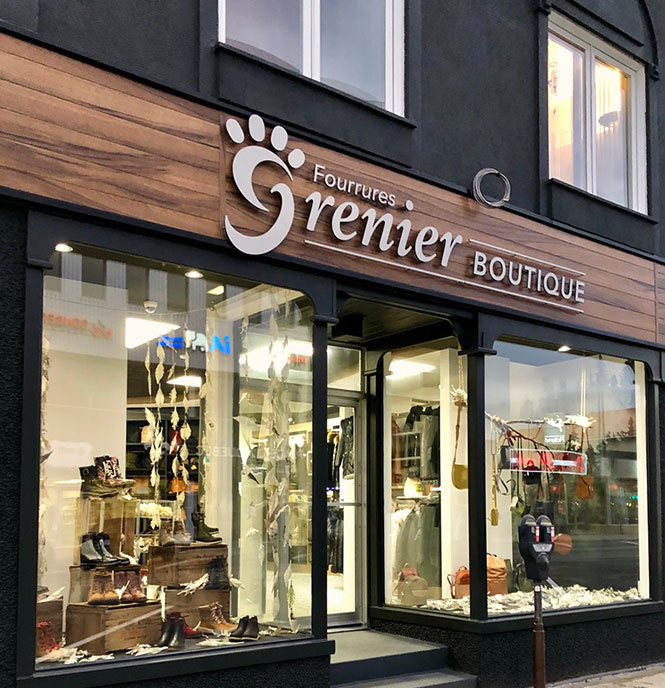 2019
September 2019 – Relocation of the store to Val-d'Or to continue to expand the manufacturing workshop.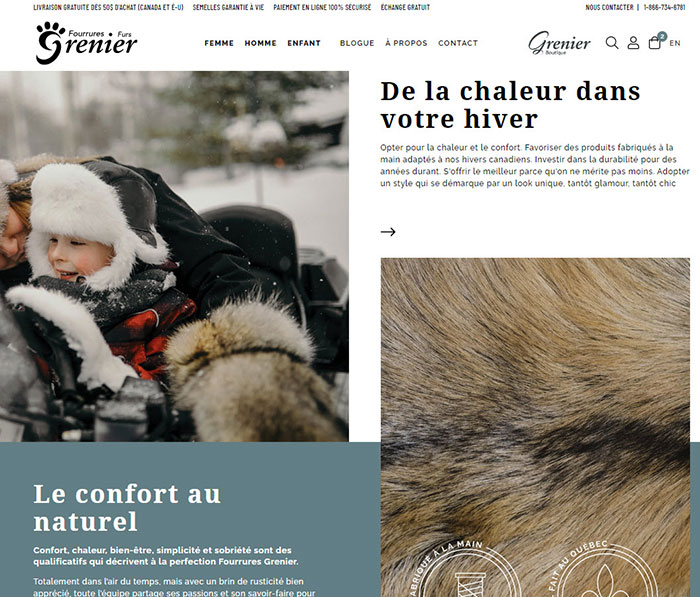 2021
Today between 35 and 40 jobs, 120 points of sale, 5 buildings. Two transactional websites, one for Grenier products and the other for brands other than Grenier.