Are you properly shod, literally? When we talk about wearing the best for your feet, we often talk about shoes, but what about socks? We have tested two well-known brands of socks for you. Dahlgren and Darntough make the best merino wool socks. If you are looking for high quality, durable and comfortable stockings, read on!
If you are not familiar with merino wool, know that it is known for its durability, comfort and thermoregulatory properties. To learn more, take the time to read our blog post on the benefits and characteristics of merino wool.
What sets Darntough apart
The first company on the test bench is Darntough. This company, based in Vermont, specializes in the manufacture of merino wool socks. What really sets Darntough apart from the competition is that their stockings are guaranteed for life… You read that right. If your pair of socks has holes, is damaged or torn, the company will send you a new pair. Although this is a competitive advantage, it goes without saying that many customers do not even need to take advantage of this guarantee. Known for their high durability, Darntough socks are tough on just about anything and (like Grenier boots) will last you for years to come.
Darntough offers a wide variety of stockings, depending on your needs. Whether you're looking for warm socks to tuck into your winter boots and for your fall hikes or short, lightweight socks for running, Darntough has you covered. And we tested them.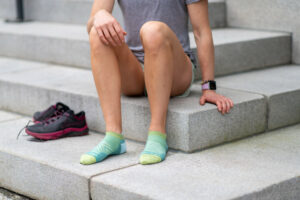 Let's start with their cropped socks for running. First, note that the length is perfect. The bottom is short and does not protrude from the shoe, but it rises slightly at the back of the heel to ensure that your sneaker does not rub on your ankle. They are also very thin and remain very stable during the run thanks to the light cushioning under the foot.
The long socks are also flawless. The ones you put in your fur boots will keep your feet warm all winter long!
By the way, a little advice: if you have strong calves, I strongly advise you to opt for Darntough.
Dahlgren also makes great socks that are perfect for hiking and winter outings. However, some models may snug slightly if you have a strong calf.
What sets Dahlgren apart
On the design side, Dahlgren understood something. Working in the manufacture of stockings for more than 40 years, Dahlgren knows how to reach a younger clientele.
First, the company is proud to manufacture only unisex socks.  Disconcertingly simple, Dahlgren stockings come in a LOT of different colors and patterns. Their designs are simplistic, but oh so effective.
Also note that Dahlgren uses in the manufacture of its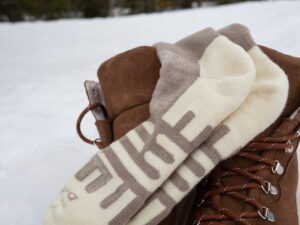 stockings, a mixture of alpaca and merino wool. This unique combination makes stockings fluffier for longer. This feature also adds value to the durability and thermoregulation of the sock. In addition to resisting bad odors…
Dahlgren merino running socks are a bit thicker. This is nothing negative since merino wool is thermoregulatory and will not make your feet sweat! But be aware that their models are a bit thicker than the Darntough running socks. The length is also sufficient to avoid the friction of your shoe on your ankle. Look at the Sprint and Oxygen models.
Although Dahlgren stockings are also made in the United States, the company designs all of its stockings in Montreal! Also, it's an eco-responsible company that donates 1% of its turnover to non-profit organizations that work for the environmental cause.
The Dahlgren warranty applies to manufacturing defects and is for a period of 2 years. It may seem small compared to the lifetime warranty, but it's still considerable for a pair of socks!
CONCLUSION
Finally, there are no wrong choices here. Merino wool socks (whether blended with alpaca wool or not) are what we recommend for optimal warmth in your fur boots. Dahlgren and Darntough are the best for the comfort and warmth of your feet, whatever activity you are doing. If the lifetime warranty appeals to you, go for Darntough! If you fall in love with the colors of Dalhgren, we understand you!
In fact, why not try both?